Villa Trapp - Salzburg
47.7888

,

13.08146
254US$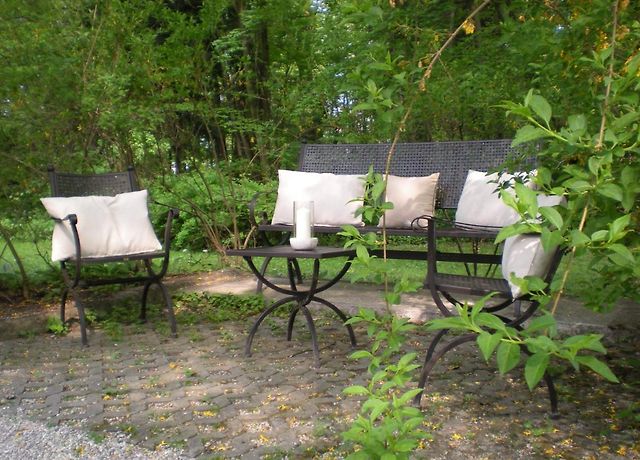 Highlights
Hotel Awards
According to guest reviews, the hotel has been rated as 
Use Badge
Address
Traunstrasse 34
,
Salzburg
,
Austria
,
5026
, Austrian Alps
Overview
Situated in Aigen district, the 3-star Villa Trapp Salzburg offers quick access to W. A. Mozart airport within 20 minutes' drive. You can benefit from complimentary parking, allergy friendly rooms and a sunbathing terrace.
Location
Just off Bildungshaus Salzburg St. Virgil in Salzburg, Villa Trapp is 2.1 miles away from the ancient St. Peter's Abbey. Guests can also visit Fortress Hohensalzburg, which is nearly 10 minutes by car. Mirabell Palace is a few minutes' drive away.
Aigen S-Bahn bus station is located 5 minutes away from Villa Trapp on foot.
Rooms
The rooms are fitted with a private bathroom with a separate toilet and bathtubs, while some feature views of the mountain.
Eat & Drink
Breakfast is offered in the bar every morning. Offering European and Austrian meals, cafe/Restaurant Guglhupf is situated within 8 minutes' walk of this hotel.
Leisure & Business
You can join snow skiing, hiking and horse riding at this accommodation, and cars are available for rent.
Internet
Wireless internet is available in public areas for free.
Guest Parking
Private parking is possible on site for free.
Number of rooms:   12.
Facilities
Most popular facilities
Free Wi-Fi
Free Wi-Fi in public areas
General
Free Wi-Fi
TV
Elevator
Facilities for kids
Room features
Sitting area
Dressing area
Dining table
Good to know
Check-in
from 15:00-19:00
FREE
Check-out
from 08:00-11:00
FREE
Pets
Pets are not allowed.
Rooms and availability

Bed options:

Room size:

165 sq. feet

Max:

1 person
Garden view

Shower

Heating

Bed options:

Room size:

130 sq. feet

Max:

2 persons
Garden view

Shower

Heating

Bed options:

Room size:

270 sq. feet

Max:

2 persons
Garden view

Shower

Heating
Location
Traunstrasse 34
,
Salzburg
,
Austria
,
5026
, Austrian Alps
City landmarks
Nearby
Restaurants
Castle
Fortress Hohensalzburg
1.7 mi
9 Getreidegasse
Mozart's Birthplace
2.1 mi
Altstadt
Historic Centre of the City of Salzburg
1.7 mi
Church
Salzburg Cathedral
1.7 mi
Museum
Museum of Natural History
2.1 mi
Makartplatz 8
Mozart's Residence
2.1 mi
Square
Residenza Fountain
1.7 mi
Museum
DomQuartier Salzburg
1.7 mi
Kapuzinerberg 6
Kapuzinerberg Hill
1.3 mi
Eucharistie Schwestern
2900 ft
Museum
Residenzgalerie Salzburg
1.7 mi
Freundschaftsberg
2200 ft
Sankt-Peter-Bezirk off Kapitalpl.
Event hall
Bildungshaus Salzburg St. Virgil
600 ft
Landestheater Salzburg
1900 ft
St. John the Baptist's Parish Church
1900 ft
Bucherei d. Bildungs-
2000 ft
Restaurant
Cafe im Diakonie-Zentrum
2300 ft
Restaurant
St. Virgil Restaurant
2600 ft
Restaurant
Gasthof Schloss Aigen
2000 ft
Restaurant
Boutique-Gasthof Ueberfuhr Restaurant
3300 ft
Getting around
Airports
W. A. Mozart

(SZG)
6.0 mi
Blue Danube (LNZ)
81.2 mi
Train
Salzburg Central Station
2.4 mi
You can book a shuttle, once your reservation is complete.
Reviews
missing

The staff was lovely, the breakfast is very rich and the bed is very comfortable

The location is far from the center

missing

The environment is really in a private villa. The dining room with table for 14 people. Mountain views.

The connection to wifi and that there was dinner service. Check out too early, at the latest 11am!

missing

The history of the place and its environment

If you do not have car it is far away from Salzburg

missing

The friendliness and helpfulness of the staff, 10 points! The building outside was beautiful and well maintained. As we had a car, it has been great to stay in a residential area.

We expected more original furniture, and they were mostly from IKEA. Very soft mattress and wifi did not reach the room.

missing

The huge rooms, the beautiful mansion, snowy gardens, the parking are excellent.

They could improve a little breakfast.

missing

location, charm of the hotel.

I could not go to the centre on foot only by bus. But public transport in Salzburg works great, in 10 minutes you are in the center (24-hour card costs 4 euros)

missing

very quiet and very comfortable place. Charming

In-room wifi signal was very weak. We also had a TV in the room.

missing

The Cottage The place is full of stories. The Park, the squirrels in the park. You wake up and see the snowy mountains. It has magic. Comfortable beds. Great breakfast

The drain of the shower did not work well.

missing

The place has the magic of being there Trapp family. It is very cute and magnificent. It has curious history It is far from the center, but easily accessible.

They should improve comfort, there was no one after 7 o'clock to prepare hot drinks, for example. There are no amenities except soap. The breakfast is correct but could be better.

missing

It's a beautiful house in the suburbs. The environment is very nice. Large and comfortable room. It is impeccable Very good attention.

missing

The hotel has a unique history and a gentleman, very friendly manager. It is at the suberbs of Salzburg in a quiet area. It is a real elegant/quality acommodation.

Breakfast has to be enriched.

missing

The hotel was charming, the rooms were very clean, and the family-style breakfast was fun.

missing

beautiful house, great surroundings, breakfast is ok, a nice stay

missing

It was a thrill for us to stay here - love the Sound of Music so this was a must in Salzburg. The common rooms were beautiful - lots of Trapp Family memorabilia and wonderful views of the mountains from each window. We particularly liked the chapel on the second floor - very moving. The grounds were wonderful too with nice sitting areas at the back of the villa. Very relaxing and quiet. We booked the family suite which was spacious and comfortable - could have accommodated six people. Breakfast was served in a very pretty diningroom decorated in the Austrian style. Would highly recommend this hotel - very unique experience!

missing

The history of the place and the building were magical,the photos and siutes were bueatiful and so was the setting.It was so peaceful and relaxing.

The history the peace,and the space and luxury of the suites.
FAQ
Which airport is the closest to Villa Trapp?
Villa Trapp is located 0.5 miles from W. A. Mozart airport.
Is airport shuttle provided by Villa Trapp?
Bus shuttle is one of the services offered by Villa Trapp. Please inform the hotel staff about your estimated arrival time.
What is the earliest I can check-in at Villa Trapp Salzburg?
At Villa Trapp Salzburg you can check in from 3 PM till 7 PM on your day of arrival.
How far is Villa Trapp Salzburg from the city center?
The city center is located 1.9 miles away from Villa Trapp Salzburg.
Are there any cleaning services provided at Villa Trapp?
Yes, Villa Trapp provides laundry and room service.
What landmarks can I find in vicinity of Villa Trapp?
Capuchin Monastery is worth visiting, plus it is set within 1.7 miles away from Villa Trapp.
How can I spend my leisure time at Trapp?
There are a library, a garden and a bar provided at Trapp.
Where can I find Villa Trapp?
Villa Trapp is placed in the center of the city, about 10 minutes' drive away from Mozart's Birthplace.
Can I have lunch or dinner next to Villa Trapp Salzburg?
Guests can visit cafe/Restaurant Guglhupf restaurant placed within a 8 minutes' walk of Villa Trapp Salzburg.
How much does it cost to stay at Trapp?
The price for a room in Trapp starts at €141.
What sport activities at Villa Trapp Salzburg can I take part in?
At Villa Trapp Salzburg guests can enjoy hiking, horse riding and skiing that the hotel offers for active guests.
Is there any public transport close to Villa Trapp Salzburg?
Yes, there is Aigen S-Bahn bus stop within 800 feet away from Villa Trapp Salzburg.